Sharing Moment May 17 at 17:00
Location: A Mandorla, Monte do Carvalhosinho, Armazèm
Originally Fasciapulsology is a manual therapy
that implies a soft and deep touch,
which enables a precise and fine listening of the membranous fluid motions and pulsations of the tissular Body.
The fascia supports movement in dance.
By bringing our consciousness to an internal touch,
we become explorers of internal landscapes,
that are fluid and ever changing.
We then word it, map it, reflect on it and mirror it for others.
During my Hermitage at Mandorla, I will explore
with Alison Grace Clissold, Paulina Vogel, Marion Blondeau and Charlotte Allen –
how we can apply Fasciapulsology and all its implementations to reach
and activate a performing state and possibly reflect/develop a methodology to create performing acts.
Everything in the work of Fasciapulsology is based on touch.
In a society where touch is being edged out of our lives because of the current crisis situation,
can framed/or staged presence become an intimate space where audience members/or
witnesses touch the very dynamic experience of the performer ?
How as performers do we bridge our imaginations from the field of our perceptions?
And in this direction, how do we forge our own embodiment to maintain stability and fluidity?
How do we keep on clarifying our expressiveness and understanding?
Can the observer also form part of this constant clarification?
How to let the non-tangible form and shape into gentle dialog of motions?
How do we moment by moment respect the otherness of the other,
of the others, and be respectful of our own autonomous boundaries?
Here is a proposition to be explored and let weave itself into a new form of language.
---
Florence Augendre (FR/BE)
Florence is an independent choreographic artist, author, researcher, performer
who has developed her work in various artistic fields such as theater,
cinema, contemporary dance, opera and visual fine-arts.
In her work, Florence engages creativity as the revealing of one's own experience and creates metaphors
where the body qualities and the imaginary converge in the experience of the deep self and our human physical constitution.
Inviting the vitality of singular experiences, her work reveals multiple aspects of conscious and their complementing expressiveness.
At the heart of our physiology in relation to our environment,
how do we meet the subtleties of sensory perceptions and their modalities ?
How do we also meet the energy of the animal, its expressive and yet silent presence ?
How the non-tangible shapes and forms itself into motion ?
Along side, she completed her education in Body-Mind Centering(R)
as a certificated practitioner of Fasciapulsology (IFCC-Christian Carini),
and is studying with Dr Catherine Shainberg (School of Images, Saphire™).
In 1991, she makes her artistic debut, revealed on stage by theater directors Louis & Xavier Bachelot.
In 1993, she moves to Belgium to work for Wim Vandekeybus
and his company Ultima Vez on " Her Body does not fit her soul ".
In 1999, she co-signs and co-performs for two years "Reckless Reckoning"
with Salva Sanchis, as the first step into her own choreographic artwork.
Among her many various artistic collaborations, we can also name :
Meg Stuart, David Hernandez, film-maker Inneke van Waeyenberghe, collective Labor GRAS,
Johanne Saunier/Jim Clayburgh, Christophe Haleb, Brice Leroux,
Lance Gries (N.Y.), Steve Paxton, Lisa Nelson, Label Cedana, Olga de Soto,
Tibo Vandenborre, Lieven Van Baelen, Ezster Salamon & Christine De Smedt,
David Rosenberg (art historian and curator), visual artist Kendell Geers, Fabrice Ramalingom,
Félicette Chazerand, Koen Augustijnen, Les Ballets C de la B, Michèle Noiret, François Brice,
Quanta Art, collective Les Inéluctables, Belgium team documentary collective IDOCDE.

Most recently, she has been collaborating with Estonian rock band Hello Killu,
musician Guillaume Le Boisselier & choreographer Maria Eugenia Lopez (FR/BE),
musician Rajivan Ayyappan & choreographer Emanuela Iacopini (IT/LUX),
PhD philosopher and dance artist Mala Kline (SLO), singer physical-theater performer Adriana Josipovic (HR),
and Dr Jacqueline Pairon, researcher in linguistic and communication from University LLN (BE).
In April 2019, she launched a co-creation and performed "Interstitial "
together with composer/musician Roman Golovko and visual artist
Antonin De Bemels for the MOMa and CDR Teatr in Moscow (Russia).
Since June 2019, she is also elaborating a new duo project with the drummer/percussionist and musician Franck Hemmerlé,
as the core of a variable collective performing poetic act
(Live Room Series Vedanza LUX , Musique en mouvement Jarny Festival FR ).
In 2020 two new artistic encounters took on : a fairy-tale/theater project
with Mélancolie Motte & Julie Nayer "Et toi, tu même!",
and a transversal research led by visual artist Helena Dietrich
and with dramaturg Guy Cools
Florence also accompanies, teaches and leads collective practice
& labs in diverse organizations and institutions throughout Europe,
and takes part in broadcasting various artistic collaborations.
---
ARTISTIC HERMITAGE at A Mandorla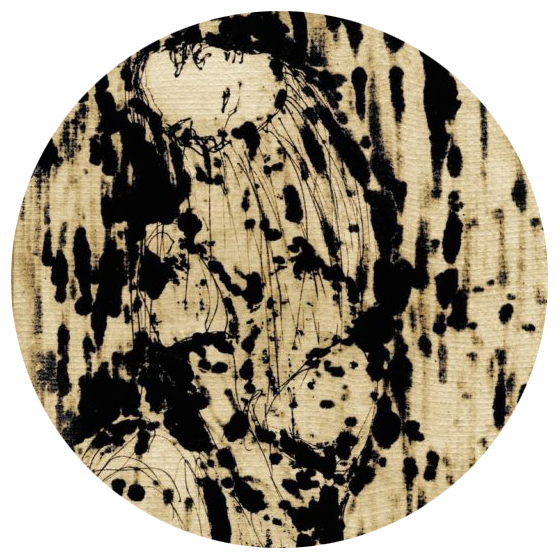 A Mandorla is a place for creation and artistic transformation.
People with a creative imagination can work here in the midst of nature,
which is perhaps the most creative of us all.
The sedimentation of the rock with all the color nuances between rust
and grey, the organic patterns in the wood drawn by the trees,
the rotation of the trunk towards the light, but of course also the incredible
brightness in Portugal and the magical cloud formations on the heaven …
enough inspiration for people with an artist's soul!
For those interested in research into dance and movement,
we also provide a dance studio.
If desired, we propose the possibility to be accompanied in your research
or creative process by Luk Van den Dries and/or Louise Chardon,
who are experienced and expert in the fields of dance,
somatics, theater, and performance.
We have the availability to receive 5 persons in double/triple rooms,
and a working space of 70m2,
plus of course the natural environment of our land,
33 hectares of arbutus and cork trees.
---
RATES:
Lodging (including access to the lake, the swimming pool and the working spaces):
25€ (room for 3) – 60€ (individual room) – minimum 3 nights
For groups, please contact us personally.
7€ / 12€ per meal (all particular diets can be considered)
If you wish full pension for the entire period of your stay, please, contact us personally.
Artistic/personal accompaniment:
35€/hour (individual), 50€/hour (semi-individual)
info@amandorla.pt / chardon.lou@gmail.com // +351 910 518 101
---