5ta feira/Thursdays
10:00 > 11:30 YOGA (Dinah) > replaced by Louise Chardon for the time being. see https://www.amandorla.pt/embodied-philosophy/samana-yoga/
11:50 > 12:30 SOUNDWAVES (Julia)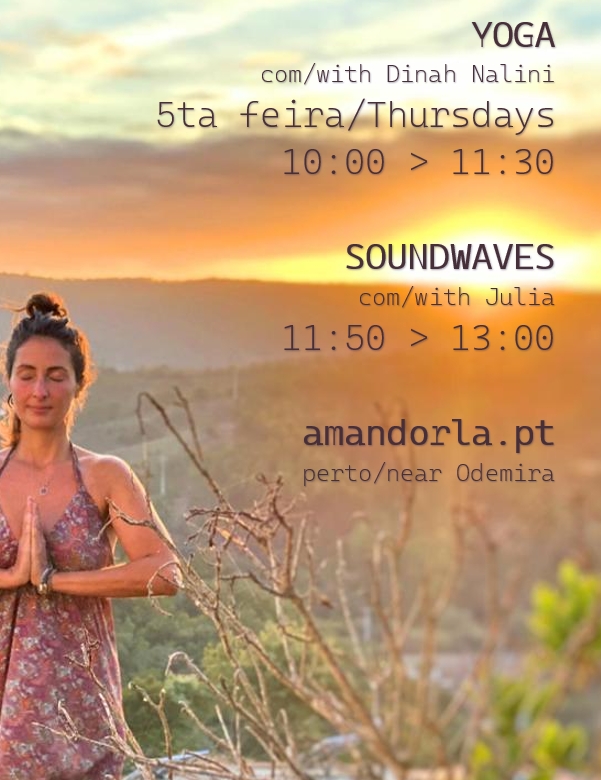 ---
YOGA:
Dinah Nalini loves to live in alignment with mama earth and all her beings so she decided to move to Alentejo in 2020. She gives sessions, workshops and talks online and at festivals about yoga, zero waste, free love and life. Her strong love for yoga guided her to a teacher training in 2018 with Shaktiji since then she opened herself fully for living her true self! Her heart beats for orgasmic nature yoga, (oriental) dancing, music, singing, cacao, connecting (women&human) circles, art, activism and creativity…
contribution: 12€/session – 40€/4 sessions
info/registration: +351 968 703 887 (WhatsApp/Telegram)
---
SOUNDWAVES:
The voice is a Creation given tool for natural expression. We just have to unlearn patterns that made us stop expressing love, happiness and joy in a most natural, innocent way as we used to know when we were young. By giving attention to the vibrations in our body as they come and go naturally and expressing them through voice, we go back to our true nature. With high-sensitive care, love and intuition I give you the space to connect with your truly and all-loving Self and help you heal everything that is not pure.
Duration: 40 mins.
Contribution: 10€ in a group session of min. 2 people. Single sessions 30€.
ON DEMAND! Please drop me a message if you want to have a session!
info/registration: +351 920 383 395 (Telegram)
E-Mail: julia.muchwitsch@gmail.com
---
Location:
Monte do Carvalhosinho
N 37°30'56.9″ / W 8°37'17.0″
7630-568 São Teotónio (Odemira) Portugal