5-6-7 de Agosto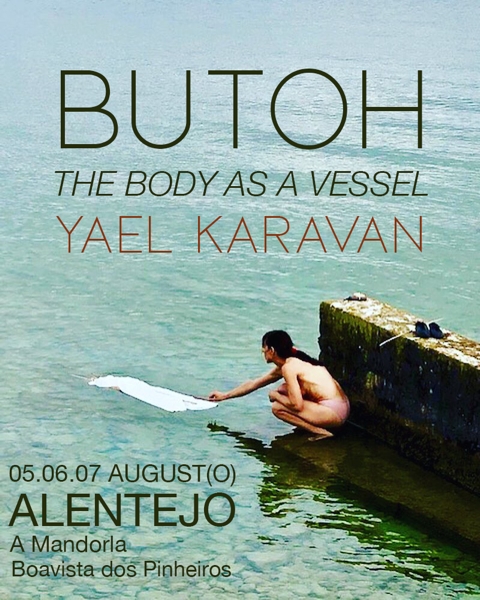 Horarios :
9.30-12.30
4.00 – 6.30
Localização :
A Mandorla – Boavista dos Pinheiros (Odemira)
https://goo.gl/maps/55fLdXekxqxuUUeBA
[scroll down for English]
---
APRESENTAÇÃO
"De novo e de novo nós renascemos.
Não é suficiente simplesmente nascer do ventre da mãe.
Muitos nascimentos são necessários. Renascer sempre e em todos os lugares.
Mais uma vez." – Tatsumi Hijikata, fundador do Butoh
Butoh é uma dança de vanguarda,
uma filosofia e um método que foi criado no Japão, no final dos anos 50,
por Tatsumi Hijikata e Kazuo Ohno.
Não se trata de uma técnica, mas de um método e uma abordagem da dança que nasce dentro de nós
e nos conecta à nossa essência, natureza, universo e aos ciclos da vida e da morte.
Yael Karavan tem mais de 20 anos de experiência,
durante os quais teve a oportunidade de trabalhar com os fundadores do Butoh no Japão:
Kazuo Ohno e Motofuji San – esposa de Tatsumi Hijikata – bem como com Tadashi Endo e o MAMU dance theatre,
Yumiko Yoshioka e Ten-Pen-Chi, Sankai Juku, Atsushi Takenuchi, Minako Seki, Carlota Ikeda,
Yuko Kawamoto, Akira Kasai, Natsu Nakajuma entre outros.

Os principais elementos que serão trabalhados na oficina são:
metamorfose, presença, centro, contraste, expansão da dança através de imagens (Buoth-Fu) e tensão entre opostos.

O objetivo é libertar o corpo "domesticado" do conjunto de gestos e movimentos preconcebidos permitindo
o acesso à profunda e autêntica essência do movimento.
---
======================================
BIOGRAFIA
Premiada performer, dançarina e diretora artistica da Karavan Ensemble,
Yael Karavan nasceu em Israel e cresceu em Florença, em Paris e em Londres.
Pesquisando a Dança, atravessou a Europa, a Rússia, o Brasil e o Japão
buscando por uma linguagem de expressão física que ligasse o Oriente
e o Ocidente, a Dança e o Teatro especialmente no contexto site-specific.
Estudou e trabalhou com mestres do Butoh, como Kazuo Ohno,
Tadashi Endo, Carlotta Ikeda, Yumiko Yoshioka, Akiko Motofuji, Ko Morobushi, Minako Seki, Yuko Kaseki,
Yuko Kawamoto, entre outros.
Foi membro da MaMu Dance Theatre de Tadashi Endo durante 8 anos e da Ten-Pen-Chi,
da Yumiko Yoshioka durante 3 anos.
Mais informações: www.yaelkaravan.com
---
======================================
INSCRIÇÕES
chardon.lou@gmail.com
+351 910 518 101
www.amandorla.pt
---
======================================
TAXA DE PARTICIPAÇÃO
Sliding Scale : 90-120€ (de acordo com a sua realidade financeira)
Comida :
Almoço: 6€/dia
Tudo incluído (3 refeições/dia): 18€/dia
Pernoite :
– 10€/noite em tenda ou dormitório (incluindo roupa de cama e toalha)
– 5€/noite na sua própria carrinha ou tenda
E possivel chegar um dia antes et partir um dia depois o workshop.
---

======================================
MAIS INFORMAÇÕES
www.yaelkaravan.com
---
======================================
ENGLISH
======================================
YAEL KARAVAN
Workshop – Butoh THE BODY AS A VESSEL
5-6-7 August
Time :
9.30-12.30
4.00 – 6.30
Localisation :
A Mandorla – Boavista dos Pinheiros (Odemira)
---
PRESENTATION
"Again and again we are reborn. It is not enough simply to be born of the mother's womb.
Many births are necessary. Be reborn always and everywhere. Again and again." – Tatsumi Hijikata

Butoh is an avant-garde dance of transformation created in the end of the 50 in Japan.
Karavan is sharing over 20 years of experience having worked
with the founding members of Butoh Dance as well as 2nd and 3rd generation in Japan and Europe.
Butoh is not a technique but a method and philosophy.
The main elements that will be explored in the workshop are metamorphoses,
dance through imagery, presence, awareness and the tension between opposites.
The aim is to free the body from its mundane preconceived set of gestures and movements
and thus allowing us to access a deeper and more authentic essence of movement and archetypal expression.
Questioning how Butoh can be translated into a
European Body and why is Butoh not just relevant but extremely vital nowadays.
---

======================================
BIO
Yael Karavan, award winning performer,
dancer and Artistic director of the Karavan Ensemble, Yael was born in Israel and grew up in Florence, Paris and London.
In her dance research she travelled across Japan and Europe searching
for a physical language of expression which bridges between East and West, Dance and theatre.
She studied and worked with Butoh masters such as Kazuo Ohno,
Tadashi Endo, Carlotta Ikeda, Yumiko Yoshioka, Akiko Motofuji,
Ko Morobushi and Minako Seki, amongst others.
She was a member of Tadashi Endo's MaMu Dance Theatre for nearly
8 years and of Ten-Pen-Chi led by Yumiko Yoshioka for 3 years.
---

======================================
REGISTRATION
chardon.lou@gmail.com
+351 910 518 101www.amandorla.pt
======================================
---

PARTICIPATION FEE
Workshop :
Sliding Scale : 90-120€ (according to your financial reality).
Food :
Lunch : 6€ / day
All inclusive (3 meals / day) : 18€ / day
Stay overnight :
– 10€ / night in tent or dormitory (including bedding and towel)
– 5€ / night in your own van or tent.
It is possible to arrive 1 day before and/or depart 1 day after the worksop.
---
======================================
MORE INFORMATION
www.yaelkaravan.com
www.karavanensemble.com