TRANSFORMATIONAL MEDITATION RETREAT
including daily Yoga & Chi-Kung
September 21 to 27, 2022
with Indra and Louise Chardon
---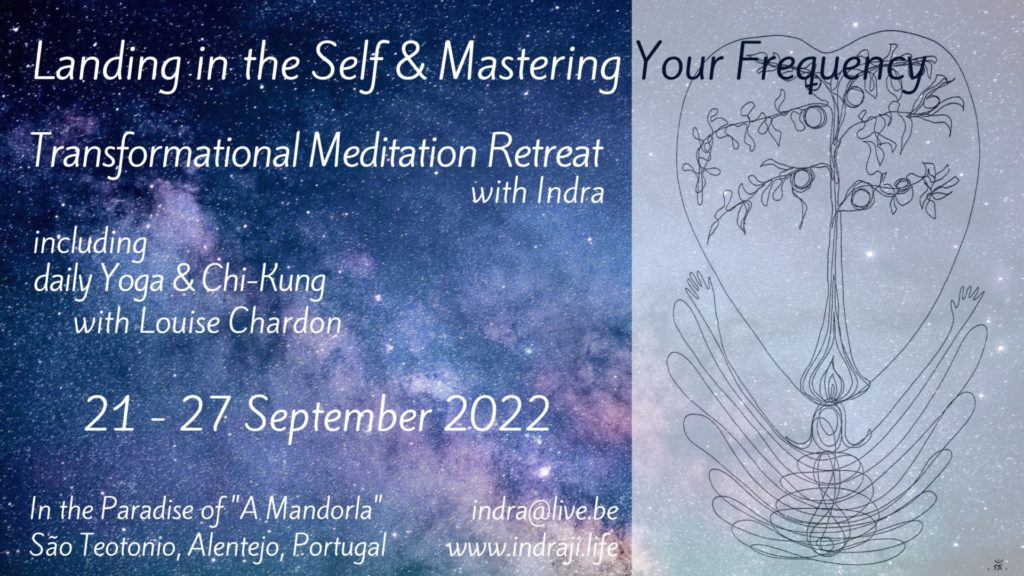 Join us for this transformational 6-day retreat,
Realise Your True Nature,
and get clear about the future You want to see unfold.
---
All info also on indraji.life.
---
We are all living in a world undergoing an immense transformation. Personally as well as collectively we are constantly being pushed into choosing to live as victims of fear-based beliefs, or to consciously live our dreams, based on the new paradigm of Oneness Consciousness, bringing Unconditional Love, Inner Silence, Balance, and Freedom. We are the Creators in the Divine Quantum Field of All Possibilities, and that is exactly what we now are starting to understand and consciously relate to.
During this retreat we will lift the veil of illusion:
Reconnect with the One Divine Presence we fundamentally are,
and get clear insights about this field «outside» of us that we call reality.
---
If you are feeling the call, join us on this epic journey of Self-discovery. Grasp the opportunity to discover your Essence: you are NOT a separate being in a harsh world of solid matter, but pure and unchanging Blissful Conscious Existence.
During this retreat we will make a clear shift from the illusionary "separate identity construct", to the infinite I Am Presence that is our true Self. Therefore we will take all the necessary time for a deep dive into this infinite Space of Silence and Emptiness that we Are, and where we Know we already Are Complete, Powerful, strongly Rooted, Balanced, and Free.
We will also fully reconnect with the Devine Vibration that we Are, the Source and fundamental Nature of all of Creation.
There will be pointings towards the capital importance of being very conscious about the vibration we choose to hold. This vibration will, by magnetic resonance, reflect us the world our senses perceive… We are the sole Creators of our world! Therefore we will also have a focus on how to easily and effectively manage and master our vibration, entirely determined by our very own thoughts, emotions, beliefs, and actions.
We will reconnect with our True Self with
Silence, Meditation, Body/Energy Awareness, and Knowing in the Heart.
---
Every evening there will be a talk about a pointing towards our True Identity, and about the nature of this full-immersion holographic projection we call "reality". All topics will be handled in an easy and comprehensive way, and there will be time for questions and answers.
The result will be a radical change of paradigm that will profoundly and lastingly reconnect you with the Divine Presence that You Are. This merging will fill you with deep inner peace and joy, and will make you stand well-rooted, confident and balanced in life.
Time has come to be fully conscious of Who You really Are, and to take full responsibility for the world your senses perceive, your very own Divine creation. Who Are You, and what is the version of yourself and of the world that you want to see reflected? This year, 2022, is all about that… Dharma… Living Your Divine Life…
You Are the One Conscious I AM Presence:
Infinite, Eternal, Complete, Powerful, and radically Free!

Yours is the AUM Divine Vibration of Creation:
Love, Light, Peace, Harmony, Compassion and Joy!
---
What can you expect?
* 6 days of deep Meditation and lots of nurturing Silence.
* Daily Yoga and Chi-Kung practice.
* Daily talk, with time for questions and answers.
* Delicious vegan/vegetarian meals with veggies and fruits mainly from our own garden.
* A significant and durable transformation!
---
The Yoga practice which will be proposed during this retreat is addressed to the attentive listening to the modalities of our inner landscapes and their resonances with the wholeness containing us and contained in us. Through aligning our structure, tuning our tone, and witnessing our breath, we'll expand our presence to a vaster field of receptivity and transmission, and awaken to an intimate and transcendental relation to Prãna (Energy). The practice will also be a fundamental support to help us develop and cultivate an alert, easeful and breathable sitting posture.
The Chi-Kung will inscribe our presence in a three-dimensional physical Mandala, encompassing the 4 primary aspects of the Taoist philosophy: the concepts of Yin-Yang, the Trinity Heaven-Earth-Human, the Five Elements (Earth, Metal, Water, Wood, Fire), and the Pa Kua (I Ching – the mystical aspects of numbers). The eight trigrams of the Pa Kua are represented by the orientation of the body (rotating both counter-clockwise and clockwise throughout the form) relating to the cardinal (East – North – West – South) and inter-cardinal (Northeast – Northwest -Southwest – Southeast) directions. The patterns we move through in this Chi-Kung form awaken our resonance with astral energies: stars, moon, sun, and universe. This form of Chi-Kung (Primordial Chi-Kung) reconnects us with our prenatal state, our essence before we were absorbed by the whirlwind of oblivion.
---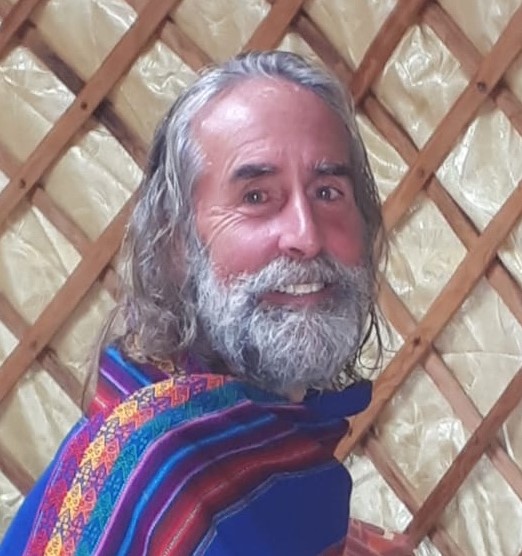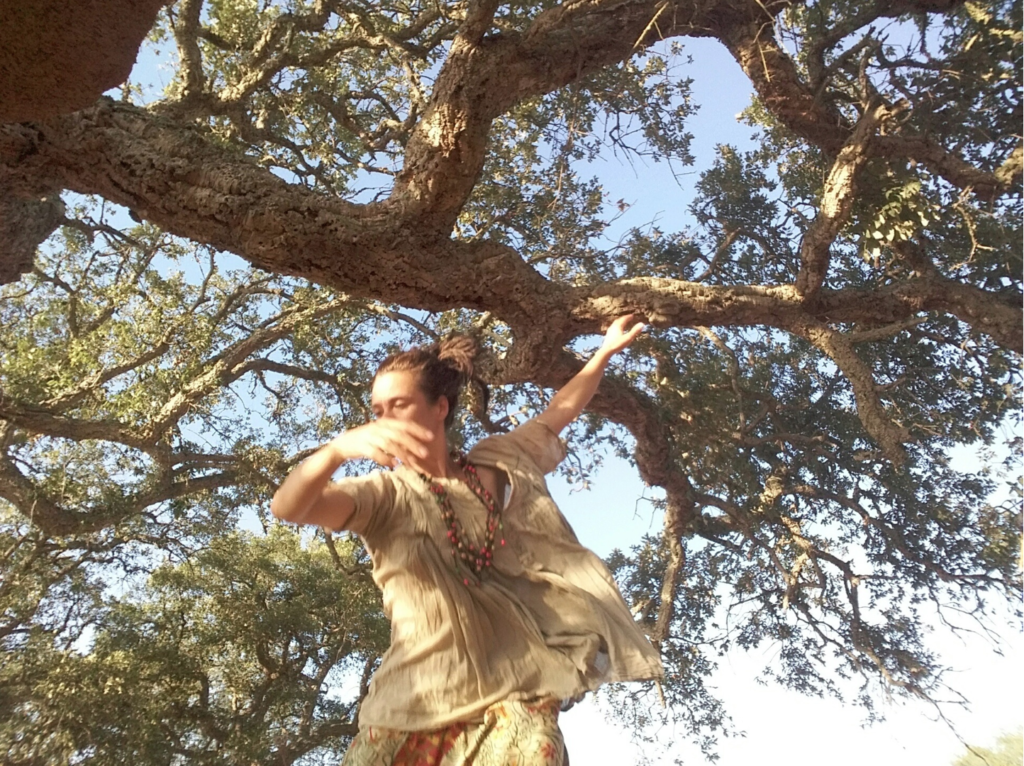 ---
As we set a maximum of only 10 participants, the retreat is expected to be full in a short time. So if you feel the call for deep change, clarity, and lasting balance and happiness, grab your chance and secure your place!
Much Love, Freedom, and Bliss on your Path of Awakening, and we hope to see you soon in the peaceful oasis of Monte do Carvalhosinho!
---
Program
The Retreat starts on WEDNESDAY, September 21 at 18h, and ends on TUESDAY, September 27 at 18h.
Arrival: Wednesday between 16h and 17h30.
Daily structure:
07h00 Meditation
09h00 Breakfast
10h15 Yoga
11h45 Meditation
13h00 Lunch
15h00 Meditation
16h15 Tea break
16h45 Chi-Kung (outdoor)
18h30 Meditation
19h30 Dinner
20h30 Evening talk and Q&A
If the weather is fine, we will have the Afternoon Chi-Kung and Meditation session on Monday the 26th at a nearby beach.
Except for the Yoga and Chi-Kung instructions, some guided meditations and the evening Talk and Q&A, we will all stay in silence during the whole retreat.
---
Venue
The retreat takes place in Monte do Carvalhosinho, a 33ha property located in a very quiet area in the South-Portuguese countryside, 10 minutes outside of the villages of São Teotónio and Odemira. Here you can enjoy a beautiful nature with lots of cork oaks, stunning views, and profound silence.
In this region, the sun is shining 360 days a year, and you can even feel the Atlantic ocean. The Alentejo coastline, with some of the most beautiful beaches in Europe, is only 20 minutes away.
Pictures of the monte and the coast
---
Contribution
Full Board – The prices include everything you need for the retreat, such as food (3 daily vegan/vegetarian meals, drinks, snacks) and accommodation.
Investment: 570€ per person.
In the double room with single occupancy: 650€ (only 1 available, no early bird reduction).
Early Birds: 490€ for bookings until August 17.
Couples/Friends: A discount of 15% is given if you bring your partner or a friend.
For groups please contact us!
---
Accommodation
* 1 room with a double bed and 1 room with 2 single beds in the maisonette.
* Dormitory with 4 single beds.
* Big 8m yurt with 2 beds and annex 4m yurt with 1 double bed.
* Possibility to stay in your own camper-van.
---
Booking.
Important Note:
After making your booking to reserve your place, we will send you confirmation by email. Your booking will only be valid after our reception of your payment and our confirmation of your participation.
A deposit of a minimum of 100€ per person is required.
Full payment is due by September 1, 2022.
---
Cancellation Policy
For cancellations after September 1, 2022, until 8 days before the retreat starting date, the cancellation fee is 100€.
For cancellations within 7 days before the retreat starting date, the cancellation fee is 50% of the price.
---
Directions
Monte do Carvalhosinho, 7630-568 São Teotónio, Odemira, Portugal
GPS coordinates: 37.515798 / 8.621390 or N 37°30'56.9″ / W 8°37'17.0″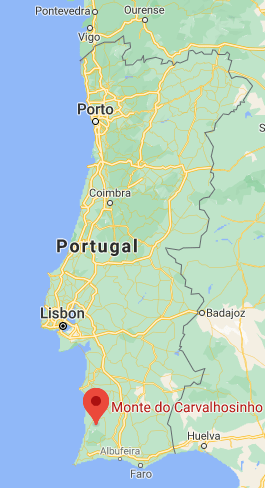 The nearest Airports are Faro (98 km) and Lisbon (260 km)
If you don't want to rent a car, you can travel by train or bus:
By Train: From Faro (departures at 07h00, 08h22, and 14h15, duration ±1h03′) or from Lisbon Oriente to Santa Clara-Sabóia (departures at 10h02 and 14h02, duration ±2h18′). We can pick you up at the train station. The train connection is very good and cheap. Info and tickets: www.cp.pt
By Bus: There is a bus connection from Lisbon Sete Rios to São Teotónio, but we don't recommend this given the much more interesting possibilities by train. Info and tickets: www.rede-expressos.pt
---
Contact
If you have any questions, please contact us.
chardon.lou(@)gmail.com / indra(@)live.be
---