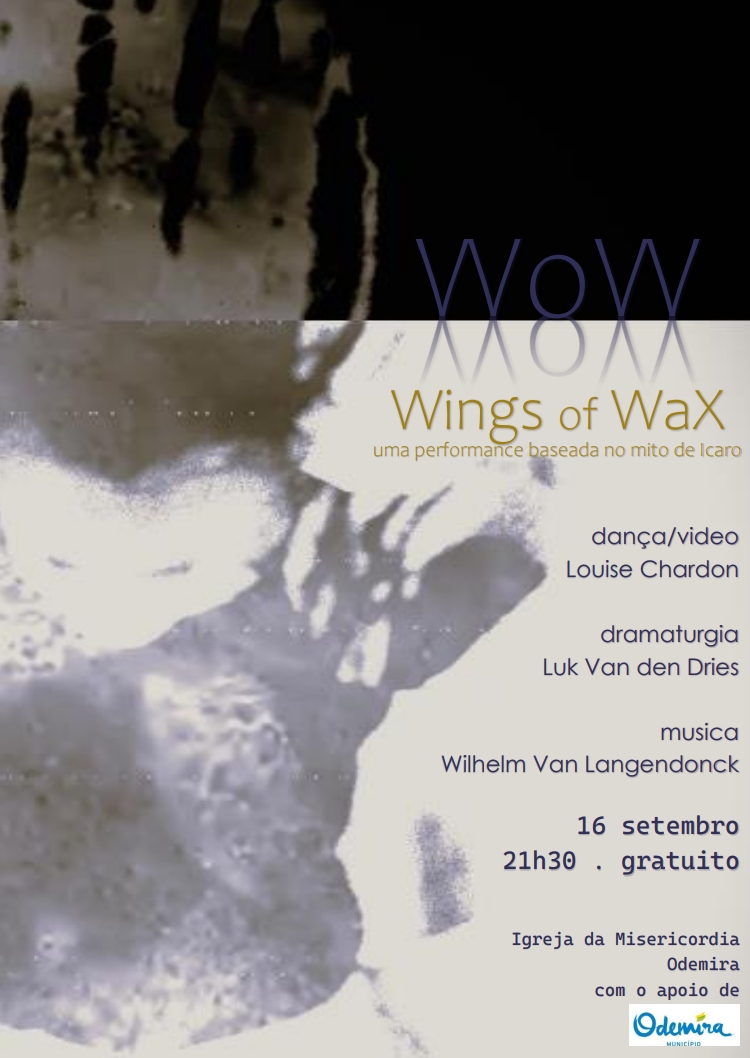 W|o|W – Wings of Wax
Igreja da Misericordia, Odemira – Sabado 16 Setembro as 21h30 – Gratuito An installation-performance by Louise Chardon & Luk Van den Dries – Music by Wilhelm Van Langendonck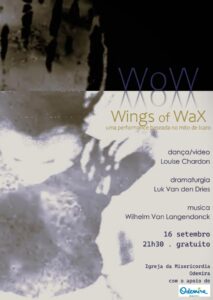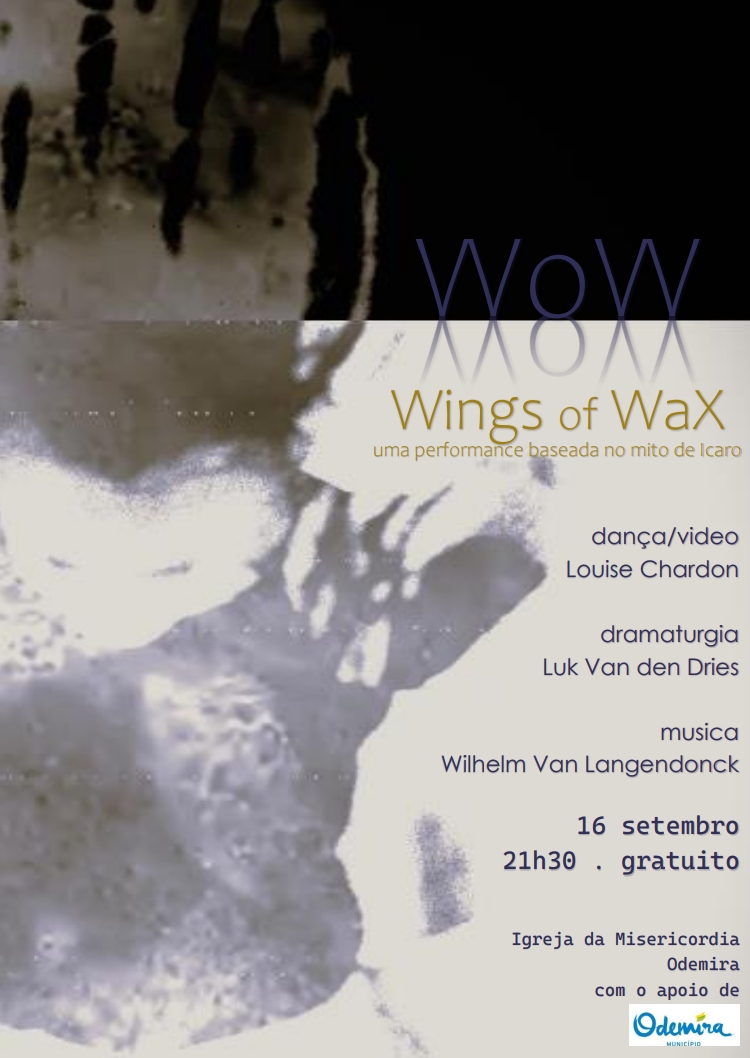 W|o|W – Wings of Wax – Igreja da Misericordia, Odemira – Sabado 16 Setembro as 21h30 – Gratuito
An installation-performance by Louise Chardon & Luk Van den Dries – Music by Wilhelm Van Langendonck
W|0|W é um novo projeto performativo de Louise Chardon e Luk Van den Dries sobre o mito de Ícaro e o simbolismo da cera. É um projeto performático que tende a revelar a maleabilidade da pele e da cera, assim como a finitude da matéria (corpo – cera – terra), uma instalação móvel de esculturas maleáveis e efémeras. Este projeto de instalação-performance deseja convidar o espectador a um olhar tátil, e tácito, atraído para o que vive por baixo, no fundo. O que derrete é elusivo, desafiando a nossa compreensão e a nossa aceitação.
Louise usa o seu corpo para criar moldes de cera, para se misturar aos movimentos do corpo-cera, para descascar ou escorrer de acordo com as gotas ou os ritmos do seu fluxo. Esta instalação-performance inclui criação de esculturas feitas de cera, misturada com outros materiais como linho, cabelo, graxa, terra, sangue, cinzas. Tanto os materiais dançados como os materiais esculpidos mostram as transformações a que o ser-vivo é submetido e se submete.
W|0|W is a new performative project by Louise Chardon and Luk Van den Dries on the story of Icarus and the symbolism of wax. It is a performance project which tends to reveal the suppleness of the skin, and of the wax, as well as the finitude of the material (body – wax – earth), a moving installation, of malleable and ephemeral sculptures. This installation-performance project wishes to invite the spectator towards a tactile, tacit gaze, drawing them towards what lives below, deep down. What melts is elusive, defying our understanding and our acceptance.
Louise uses her body to create wax molds, to blend into the movements of the wax-flesh, to flake or ooze according to the drops, or the rhythms of its flow. This installation-performance integrates the creation of sculptures made from clay, mixed with other materials such as linen, hair, fat, earth, pigments, blood, and ashes. The danced material like the sculpted materials shows the transformations to which the living being is subjected and submits.