DANÇA, CORPO E GASTRONOMIA
UM MERGULHO NA TRADIÇAO JAPONESA DO CORPO A DA ALMA
A full body workshop to realise yourself from feet to tong, to explore life in depth.
5 days of inner transformation and alchemy traveling through
Butoh with Yael Karavan, Embodied Poetics with Louise Chardon
and Japanese cuisine with Hanna Balke.
---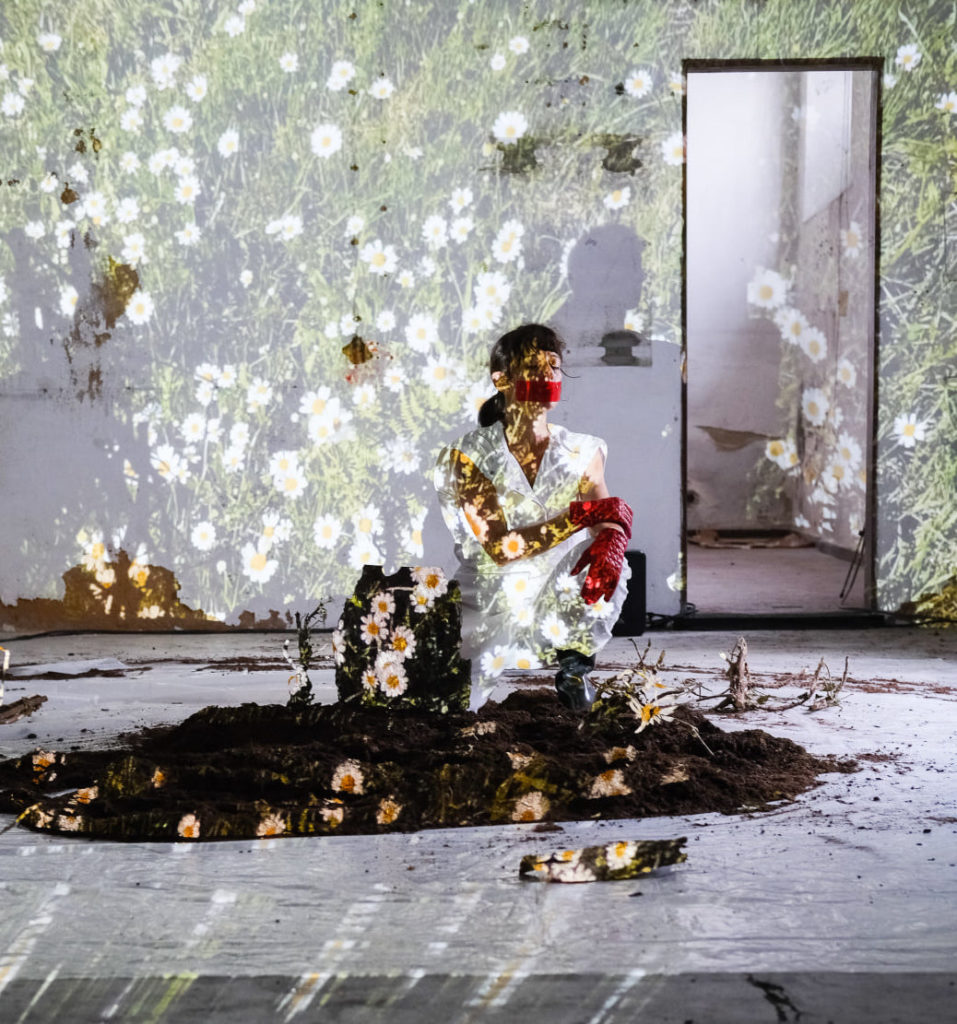 ---
…. Scroll down for English…
---
BUTOH E METAMORPHOSE – a Poesia das imagens – Oficina de Butoh com Yael Karavan
"Dentro deste corpo, existem várias coisas míticas que ainda dormem intactas… O trabalho é como escavá-las…" – Tatsumi Hijikata, fundador do Butoh Imagens poéticas são uma das maiores potências da dança Butoh.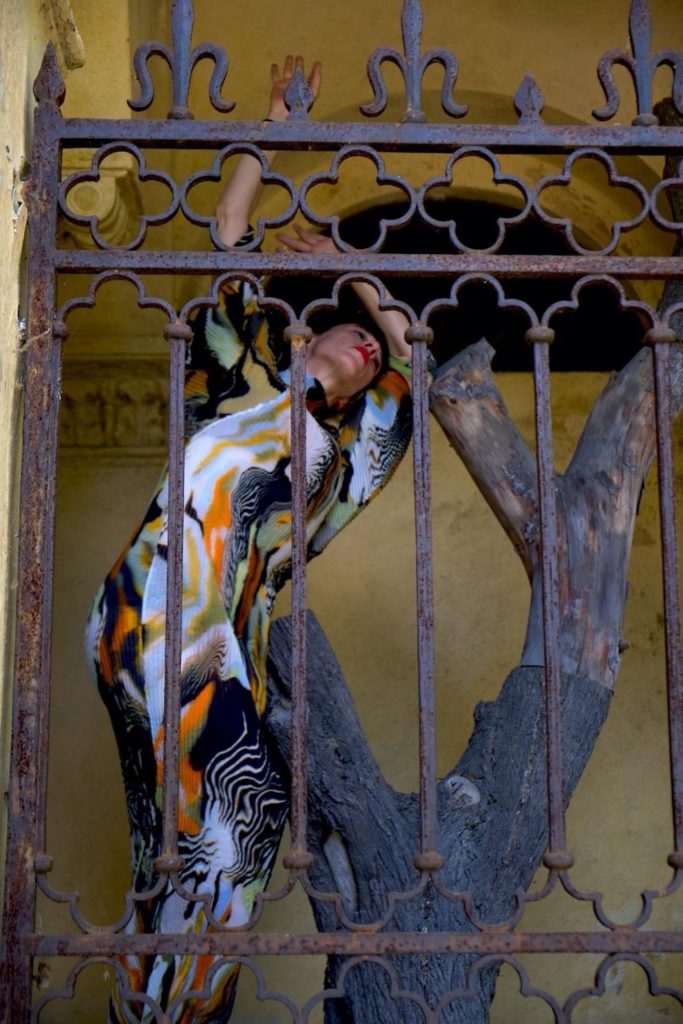 Explorando o corpo presente, corpo vazio, o corpo enquanto recipiente e a transformação dos nossos estados físicos graças às imagens.
Butoh é uma dança de vanguarda, uma filosofia e um método que foi criado no Japão, no final dos anos 50, por Tatsumi Hijikata e Kazuo Ohno.
Não se trata de uma técnica, mas de um método e uma abordagem da dança que nasce dentro de nós e nos conecta à nossa essência, natureza, universo e aos ciclos da vida e da morte.
Este workshop trabalhará os elementos da metamorfose, presença, prontidão, contraste, a dança através de imagens e tensão entre opostos.
O objectivo é libertar o corpo do seu conjunto preconcebido mundano de gestos e movimentos e, assim, permitir-nos aceder a uma essência mais profunda e autêntica de movimento e expressão arquetípica.
Questionando como o Butoh pode ser traduzido para um corpo europeu e o porquê de o Butoh não ser apenas relevante, mas extremamente vital nos dias de hoje.
Yael Karavan tem mais de 25 anos de experiência em Butoh, durante os quais teve a oportunidade de trabalhar com os fundadores do Butoh no Japão:
Kazuo Ohno e Motofuji San – esposa de Tatsumi Hijikata – bem como com Tadashi Endo e o MAMU dance theatre,
Yumiko Yoshioka e Ten-Pen-Chi, Sankai Juku, Atsushi Takenuchi, Minako Seki, Carlota Ikeda, Yuko Kawamoto, Akira Kasai, Natsu Nakajuma entre outros.
Mais informações: www.yaelkaravan.com
---
EMBODIED POETICS com Louise Chardon
Somos seres introjetados da natureza… contendo tudo o quenos contém… do micro ao macro, somos e testemunhamos um continuum de vivacidade criativa. … somos a vida em sua forma humana… Somos água, fogo, madeira, estrelas, vento… metal… somos terra… somos celulares.
Nesses encontros, desejo mergulhar com você no oceano subcutâneo que nos somos… para abrir nossa escuta sutil às vozes de nossas células… entrar em contato íntimo com as metamorfoses de nossas membranas… navegar nas correntes de nossos fluidos… saltar através e para fora da profundidade de nossos ossos. Um convite para nos relacionarmos de forma senciente com a vida que encarnamos e que nos encarna.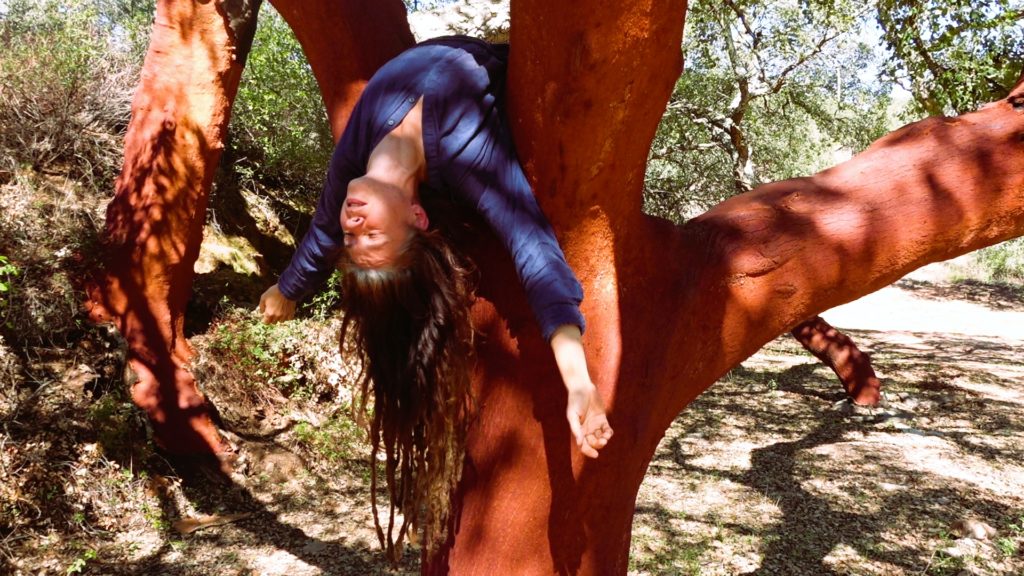 Louise Chardon dedicou a sua vida à dança e ao estudo do movimento por mais de 30 anos. Formada pelo Conservatório de Paris, desenvolveu-se primeiro como bailarina em companhias internacionais (Ballet National du Canada, Royal Ballet of Flanders, Batsheva Dance Company e Plan-K/Charleroi Danses), depois com coreógrafos independentes (Andy Degroat, Eddy Malhem, Frederic Lescure, Anya Hempel, Felix Ruckert e Ugo Dehaes). Em 2007, embarcou no seu próprio processo criativo. Com Luk Van den Dries, ela fundou o AndWhatBeside(s)Death e o CarWash Theater, uma plataforma e um local de desenvolvimento para as artes cênicas em Antuérpia, Bélgica. Juntos, criam vários projetos performativos: Ay ̈n, Sensorama, I-less-ness, Lab-Project, Vortex, Fenestra Ovalis, W∞M, Clair-Obscur e co-produce artistes como Lisbeth Gruwez, Sidney Leoni, Silvia Costa. Desde 2018 vive em Portugal onde fundou, com Luk Van den Dries, a Ermida Artística A Mandorla www.amandorla.
Por mais de 20 anos, Louise especializou-se no estudo das capacidades sensitivas profundas do ser e como o subconsciente se expressa através do movimento. Ela aplica principalmente a sua pesquisa à sua abordagem artística visual e performativa e a compartilha por meio da sua abordagem educacional e terapêutica. Louise é reconhecida pela Educação Nacional Francesa como Professora Certificada de Dança Contemporânea (DE) e Praticante Certificada em Body-Mind Centering®.
---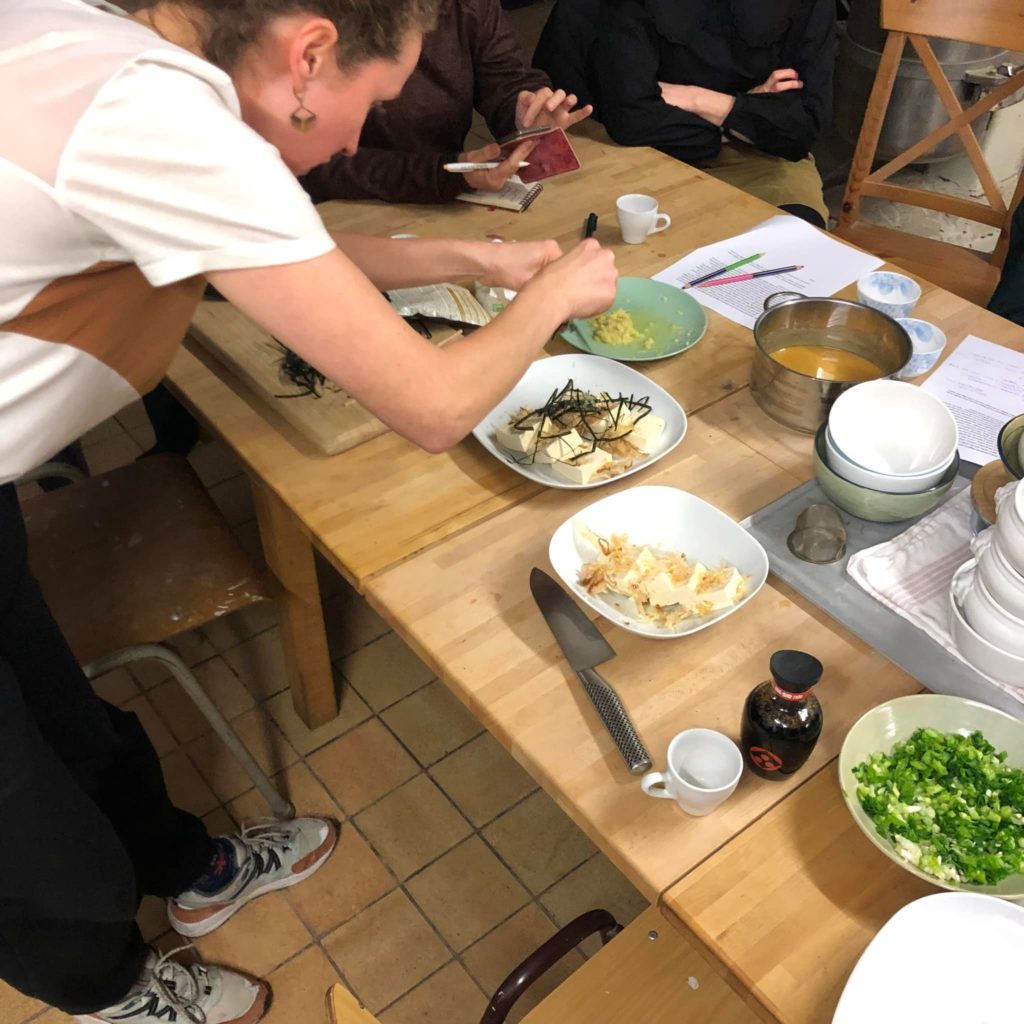 JAPANESE FOOD LAB com Hanna Balke
"Quem prova, sabe" ditado sufista
Explorar sabores / saberes culturais
FERMENTAÇÃO: missô / molho de soja / vinagre / picles
STREMMEN: Processo coalhado de fazer tofu
O processo de transformação… o processo de digestão
DIGESTÃO DE ALIMENTOS/ PENSAMENTOS/ EMOÇÕES
Centro de poder: o GUT, o HARA, o centro do Ser… concentração, foco da mente, consciência.
Hanna Balke cozinhará sua própria comida japonesa de estilo criativo e traz para esta oficina pratos veganos (às vezes vegetarianos opcionais), com sabores equilibrados;
Ela cresceu na Bélgica no restaurante japonês de seu pai, onde aprendeu sobre a cultura e a culinária. (http://izumi.be/)
Você aprenderá a cada refeição mais sobre os ingredientes japoneses e a METAMOPHOSE dos processos alimentares, como fermentação de miso, saus de soja e como fazer tofu. Se você gosta de se juntar a Hanna na cozinha, ela explicará mais sobre os detalhes.
---
Texto de Kazuo Ohno:
"Dentro do espírito das pessoas, vive uma criatura que cada um cria bem, bem secretamente, sem que ninguém perceba. Quem sabe não seja aquele pensamento de Deus que nos foi dado pelos céus, pelo cosmos, o espírito que nos foi partilhado, sim, o espírito. Quem sabe não seja a vida que nos foi atribuída como alma irmã do cosmos, a consciência cósmica, a consciência cósmica que nos deu essa vida: nossa cabeça também e assim, com muitos problemas dentro dela. Fisiologicamente, dentro do ventre há o intestino, o estomago, muitas coisas… a voz secreta do corpo, algo que, quando menos se espera, mitiga nossas dores. E assim que o corpo humano e constituído. Se vivermos assim, como almas gémeas do cosmos, aceitando isso, aqui dentro teremos uma força que completa a vida, com o estomago, o intestino, o intestino que produz sangue e ossos, que, ao passar pelos santuários do sangue, faz uma combinação de forças com várias partes do corpo. Mas este mundo de hoje usa mais a cabeça. Ao se achar o tal, a ambição se infla, se passa a derrubar os outros, concorram? Quando menos se espera, e guerra. Eu também fui a guerra. Não é bom usar demais a cabeça. Para cuidar bem da vida… dentro da barriga. O intestino, o estomago, eles são o centro. Melhor cuidar bem deles, então."
---
… ENGLISH
BUTOH & METAMORPHOSES – the Poetry of Images – Butoh Workshop with Yael Karavan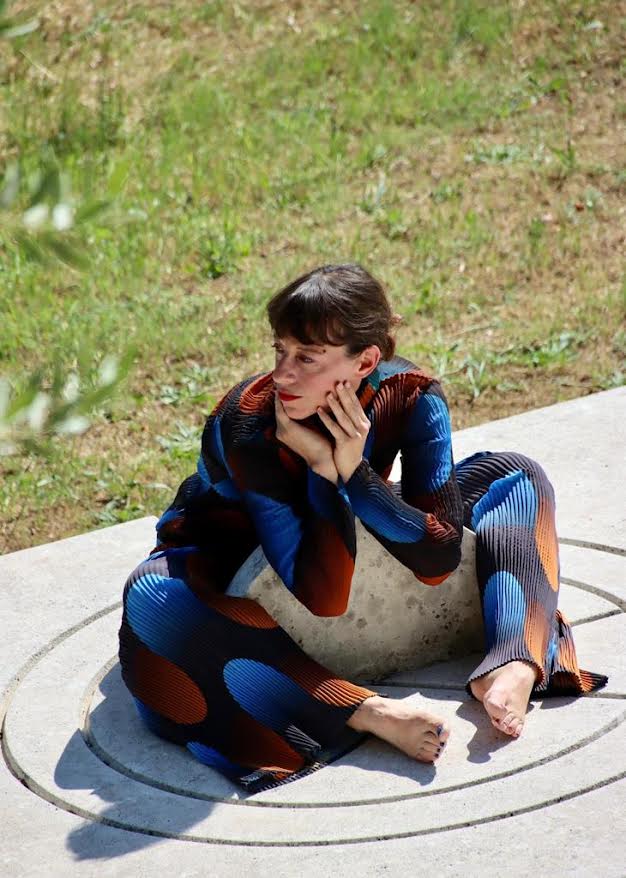 "Inside this one body, there are various mythic things that are still sleeping intact… The work is how to excavate them…" – Tatsumi Hijikata, founder of Butoh Poetic imagery is one of the greatest powers of Butoh dance.
Exploring the present body, empty body, body as a vessel and the transformation of our physical states thanks to images.
Butoh is an avant-garde dance of transformation created at the end of the 50 in Japan.
Butoh is not a technique but a method and philosophy, an approach to dance that is born within us and connects us to our essence, nature, universe and the cycles of life and death.
The main elements that will be explored in the workshop are metamorphoses, dance through imagery, presence, awareness, and the tension between opposites.
The aim is to free the body from its mundane preconceived set of gestures and movements and thus allowing us to access a deeper and more authentic essence of movement and archetypal expression.
Questioning how Butoh can be translated into a European Body and why is Butoh not just relevant but extremely vital nowadays.
Yael Karavan has more than 25 years of experience in Butoh, during which he had the opportunity to work with the founders of Butoh in Japan:
Kazuo Ohno and Motofuji San – wife of Tatsumi Hijikata – as well as with Tadashi Endo and the MAMU dance theatre, Yumiko Yoshioka and
Ten-Pen-Chi, Sankai Juku, Atsushi Takenuchi, Minako Seki, Carlota Ikeda, Yuko Kawamoto, Akira Kasai, Natsu Nakajuma among others.
More infos: www.yaelkaravan.com
---
EMBODIED POETICS with Louise Chardon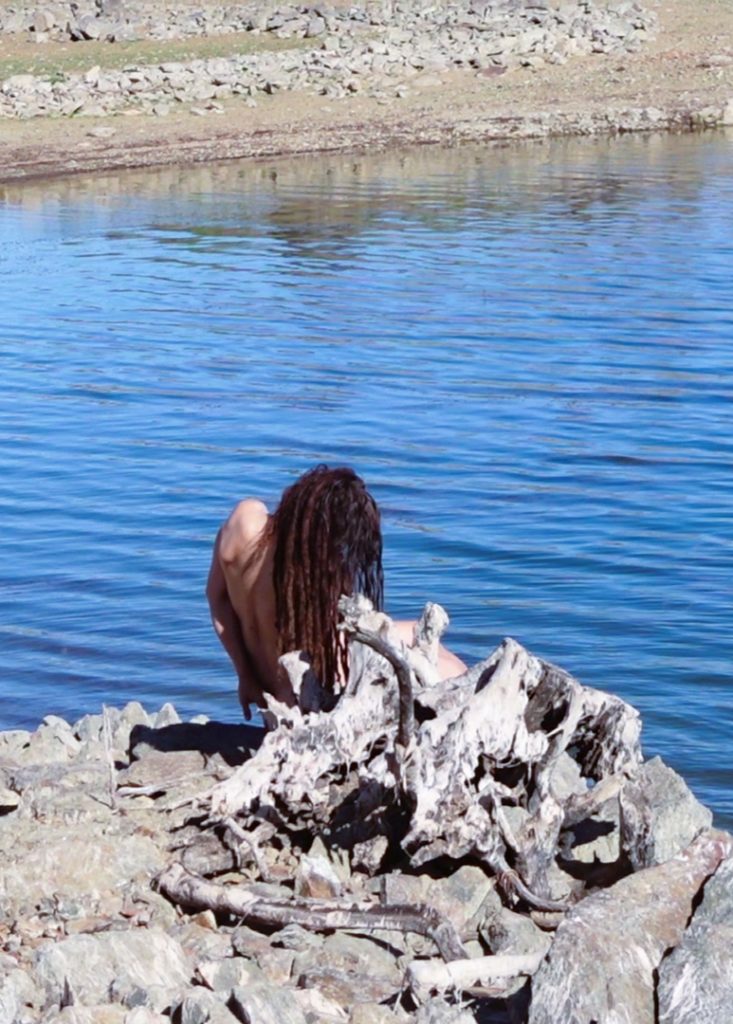 … we are nature's introjected beings… containing everything that contains us… from micro to macro, we are and we witness a continuum of creative aliveness. … we are life in its human form… we are water, fire, wood, stars, wind … metal … we are earth … we are cellular.
During these encounters, I wish to dive with you into the subcutaneous ocean that we are… tol open our subtle listening to the voices of our cells… come into intimate contact with the metamorphoses of our membranes… navigate the currents of our fluids… bounce through and out the depth of our bones. An invitation to relate sentiently to the life we embody, and which embodies us.
Louise Chardon has devoted her life to dance and the study of being in motion for over 30 years. After graduating from the Paris Conservatory, she first developed as a dancer in international companies (Ballet National du Canada, the Royal Ballet of Flanders, the Batsheva Dance Company, and Plan-K/Charleroi Danses), then with independent choreographers ( Andy Degroat, Eddy Malhem, Frederic Lescure, Anya Hempel, Felix Ruckert and Ugo Dehaes). In 2007, she embarked onto her own creative process. With Luk Van den Dries, she founded AndWhatBeside(s)Death and the CarWash Theater, a platform and a place of development for the performing arts in Antwerp, Belgium. Together, they create several performative projects: Ay ̈n, Sensorama, I-less-ness, Lab-Project, Vortex, Fenestra Ovalis, W∞M, Clair-Obscur and co-produce projects of artists such as Lisbeth Gruwez, Sidney Leoni and Silvia Costa. For more than 20 years, Louise has specialized in the study of the deep sensitive capacities of the being and how the subconscious expresses itself through movement. She mainly applies her research to her visual and performative artistic approach and shares it through her educational and therapeutic approach. Louise is recognized by the French National Education as a Certified Teacher of Contemporary Dance (DE) and is a Certified Practitioner in Body-Mind Centering®.
---
JAPANESE FOOD LAB with Hanna Balke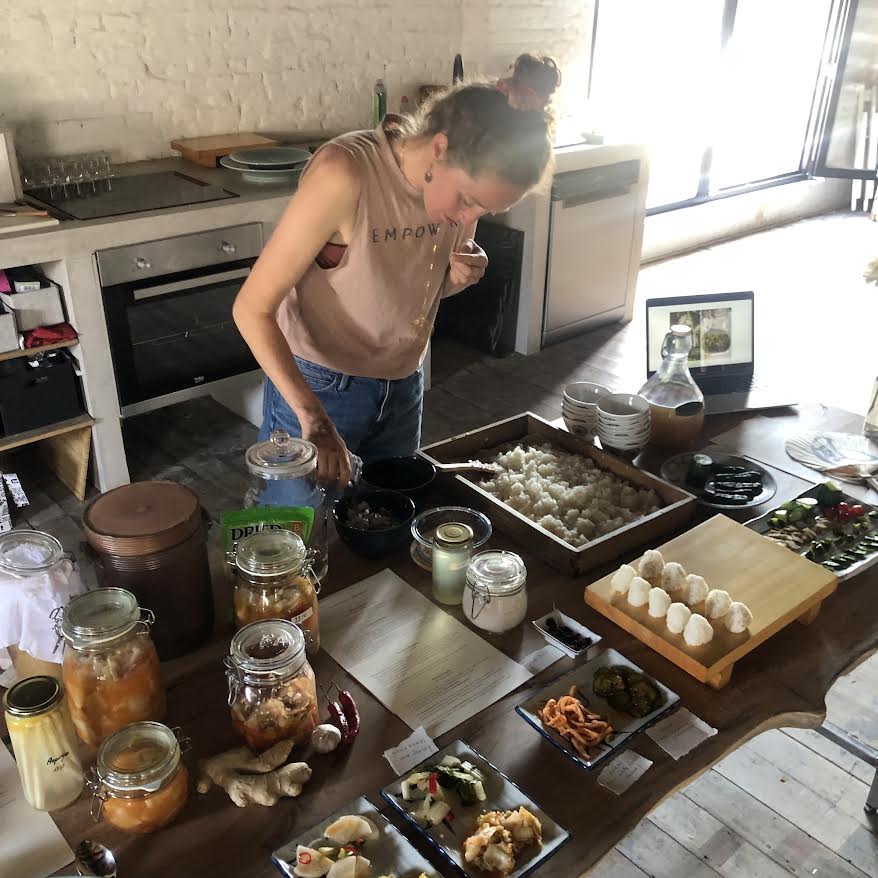 "He who tastes, knows." Sufism saying
Exploring flavours / cultural knowledge
FERMENTATION: miso / soya sauce / vinegar / pickles
STREMMEN: Curdled process of making tofu
The process of transforming… the process of digesting.
DIGESTION OF FOOD/ THOUGHTS/ EMOTIONS /
GUT and HARA: power centre of the Self… Concentration, focus of the mind, awareness.
Metamorphosis refers to the process of transformation, to change into a different physical form. It is a biological process involving radical changes in the body structure by cellular death growth, and differentiation.
Hanna Balke will cook her own creative style Japanese food and brings this workshop vegan dishes to the table (sometimes optional vegetarian), with balanced flavors; She was brought up in Belgium in her father's Japanese restaurant where she learned about the culture and cooking. (Izumi.be).
You will learn each meal more about Japanese ingredients and the the METAMOPHOSE of food processes like fermentation of miso, soy saus and how to make tofu. If you like to join Hanna in the kitchen she will explain more about the details.
---
Text of Kazuo Ohno:
"Inside people's spirits lives a creature that each one creates, very secretly, without anyone noticing. Maybe it's that thought of the sacred, given to us by the heavens, by the cosmos, it is the Spirit that was shared with us. Maybe it's the life that was attributed to us as a soul sister of the cosmos, the cosmic conscience, the cosmic conscience that gave us this life. Our head as well, has many problems inside it. Physiologically, inside the belly there is the intestine, the stomach, many things… the secret voice of the body, something that, when least expected, mitigates our pain. This is how the human body is made up. If we live like this, as the twin souls of the cosmos, inside our belly we will have a force that completes life, with the stomach, the intestine, the intestine that produces blood and bones, which, when passing through the sanctuaries of the blood, makes a combination of forces with various parts of the body. But this world today uses too much its head and therefore very often ambition inflates, competition, greed and hubris, do you agree? Then, when you least expect it, comes a war. I have also been to a war. It's not good to use your head too much. To take good care of life… inside the belly, the intestine, the stomach, they are the centre. Better take good care of them."
---
INFORMAÇÕES LOGISTICAS / PRACTICAL INFORMATIONS:
A oficina começa na 5ta feira 1/06 as 16h (chegadas a partir de 15h) e accaba na 2da feira 5/06 as 13h.
The workshop starts on Thursday 1/06 4pm (arrivals from 3pm) and ends on Monday 5/06 1pm.
---
Localisação / Location: A Mandorla, Odemira, Alentejo, Portugal https://goo.gl/maps/MryTZLdzQTePLxjg9
---
Horario / Schedule:
5ta feira 16h > 19h / Thursday 4pm > 7 pm (Butoh – Yael)
6ta feira 9h > 10h30 (Embodied Poetics – Lou) – 11h to 13h (Butoh – Yael) – 16h to 19h (Butoh – Yael) / Friday 9am > 10.30am (Embodied Poetics – Lou) – 11am to 1pm (Butoh – Yael) – 4pm to 7pm (Butoh – Yael)
Sabado/Saturday idem
Domingo/Sunday idem
2da feira 9h > 10h30 (Embodied Petics – Lou) – mercado de Sao Teotonio 11h30 > 13h (Performance) / Monday from 9am to 10.30am (Embodied Poetics – Lou) – Sao Teotonio market 11.30am > 1pm (Performance)
---
Contribuaçao financeira / Financial contribution:
Oficina/Workshop (24 horas/hours) 180€ (solidario/solidary) – 220€ (justo/fair) – 260€ (apoio/supportive).
Acomodações (4 notes) / Accommodation (4 nights) – camping 8€/note-night/pessoa-person (alugar uma tenda o materail de camping/renting of tent/material 5€/note-night/pessoa-person) – quarto compartilhado/16€/note-night/pessoa-person – single quarto/room 40€/note-night (cama de casal-double bed/pode ser para um casal/can be for a couple).
Refeições/Meals (11 refeições/meals) 120€
---
Registração e informação / registration and informations:
chardon.lou(@)gmail.com / +351 910 518 101 (Telegram & WhatsApp)