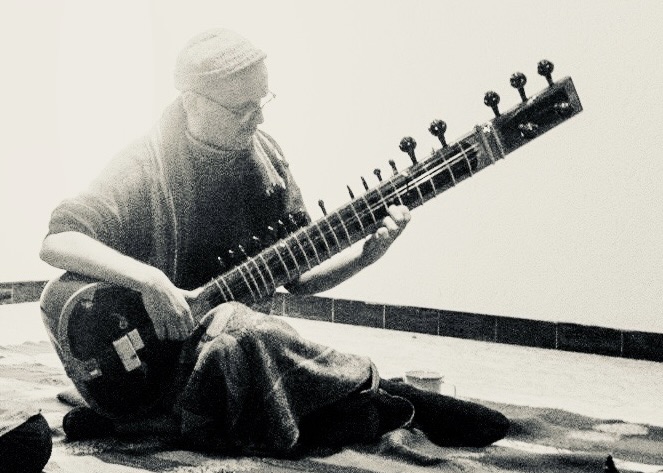 INDIAN CLASSICAL SITAR RECITALS
Between August 14 and September 30, weekly Indian classical sitar recitals will be proposed in the space of A Mandorla, one morning recital and one evening recital.
"What we invite you to is not a performance or a showing of my skills or knowledge, in a sense it is more like laying down on the earth and watching the clouds as they drift by, for to me (this) music is a lot like dreaming. Yet at the same time it is also an invitation for you to listen a little deeper, attentively, and begin to recognize the unique features of the raga, its quality, the way it moves and shows itself, like sitting with someone and truly looking at them, taking them in, opening up your mind and heart to them. And if all this sparks your curiosity, I will also make myself available for one-on-one lessons, through voice or instrument." Wilhelm Van Langendonck
Wilhelm Van Langendonck is a soloist sitar player, interpreting raga's in his very unique way. His contemplative and subtle quality in raga's interpretation is giving a renewed and original tonality to the Indian tradition. He is marrying, with extreme intelligence and knowledge, his founded experience in traditional classic raga playing with his personal creative insights and sensitivity.
His music is pure and carries one's soul and heart into a bath of harmony, transforming silence into a vibrant space where music reveals itself.
Listening to Wilhelm's playing is a peaceful and powerful experience. Each note is given its space and potency, allowed to pulse and resonate into its own life and radiate into each receptive presence.
Wilhelm's music is a true invitation to deep and even deeper listening. The attentive listener is compelled to experience inner silence and profound peace, as when entering a sacred space.
The Recitals will be accompanied, before or after, by a gentle yoga practice guided by Louise Chardon.
23/08 – 19:00 Yoga – 20:00 Sunset Raga
24/08 – 6:45 Sun Rise Raga followed by Yoga
Possibility to stay over night, camping in your van or tent on our terrain or sleeping in the yoga space.
This format will be repeated each week (30-31/08, 06-07/09, 13-14/09, 20-21/09, 27-28/09) till end of September.
Contribution:
full experience: 60€ (including 2 recitals, 2 yoga practices, a night stay over, a light dinner and a breakfast)
Recital/Yoga: 18€
Recital only: 12€
Thank you to confirm your presence and to come on time + 351 910518101 (Telegram and/or Whatsapp)