5ta feira/Thursdays
10:00 > 11:30 YOGA (Dinah)
11:50 > 13:00 SOUNDWAVES (Julia)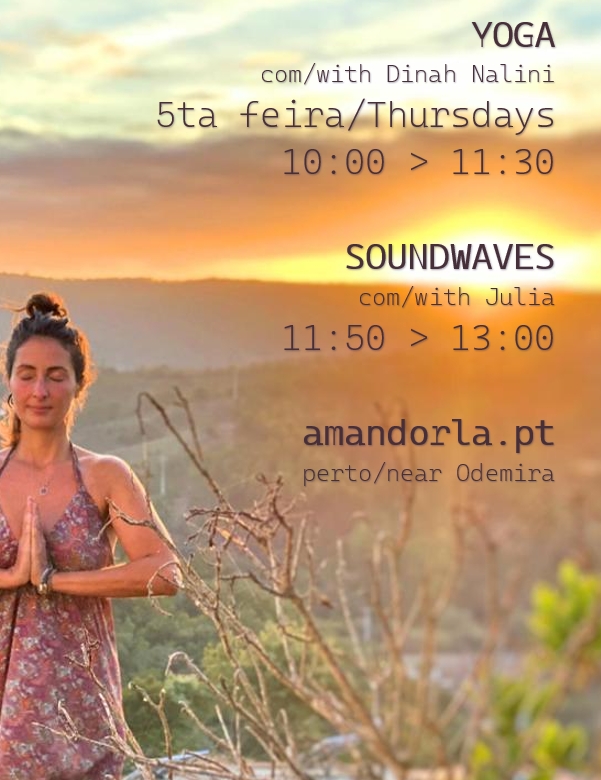 ---
YOGA:
Dinah Nalini loves to live in alignment with mama earth and all her beings so she decided to move to Alentejo in 2020. She gives sessions, workshops and talks online and at festivals about yoga, zero waste, free love and life. Her strong love for yoga guided her to a teacher training in 2018 with Shaktiji since then she opened herself fully for living her true self! Her heart beats for orgasmic nature yoga, (oriental) dancing, music, singing, cacao, connecting (women&human) circles, art, activism and creativity…
contribution: 12€/session – 40€/4 sessions
info/registration: +351 968 703 887 (WhatsApp/Telegram)
---
SOUNDWAVES:
SoundWaves is an offer by Julia to experience creative expression combining body, mind and spirit guided to help dive deep into the soul. A sensitive exploration of the state of being; a soft healing by breathing, feeling, sounding and letting go. Let us be inspired by creational waves of sound and body movement emanating from your heart.
Thursdays, 11:50. Duration: approx. 1 hour. 10€/session
info/registration: +351 920 383 395 (Telegram)
---
Location:
Monte do Carvalhosinho
N 37°30'56.9″ / W 8°37'17.0″
7630-568 São Teotónio (Odemira) Portugal