In this three days practice lab, we will meet for an introduction and presentation of Fasciapulsology.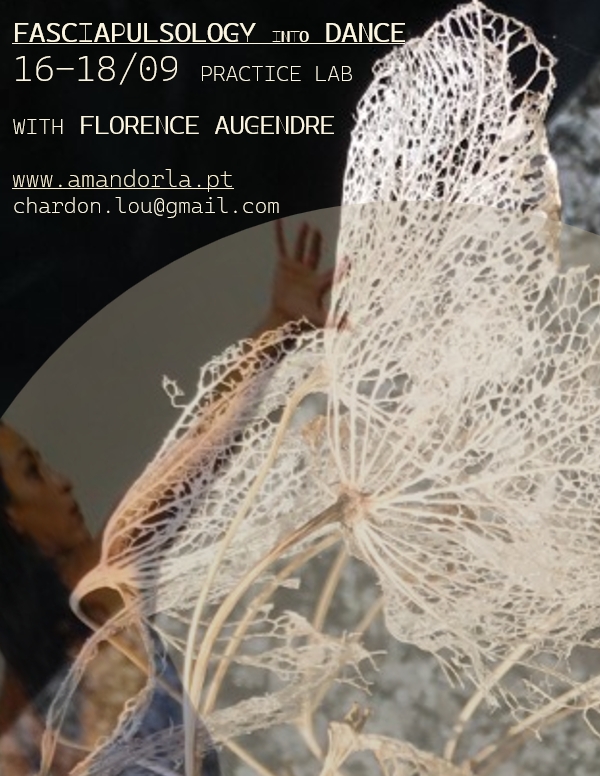 Opening to the benefits of Fasciapulsodance as a body practice and a physio-philosophical space for exchange and conversational creativity.
It is about finding and practicing specific attentive listening, that is precise, deep and global.
A quality of touch, that is respectful, concrete, soft and enveloping.
The practice between human beings that are sharing space and ground through physical state of consciousness and cybernetic feed-back.

During that weekend, there will be 5 collective practice sessions.
Participants are due to engage for the entire weekend.
There will be possibility to reserve private individual sessions on Saturday afternoon ( to be registered in advance, limited places* )
---
Florence is an independent choreographic artist, author, researcher, and performer.
She has developed her work in various artistic fields such as theatre, cinema, contemporary dance, opera and visual fine arts.
In her work, Florence engages creativity by revealing one's own experience.
She creates metaphors where the body qualities and the imaginary converge in the sourcing of the deep self and our human physical constitution inviting the vitality of singular experiences.
Her work reveals multiple aspects of consciousness and their complementing expressiveness.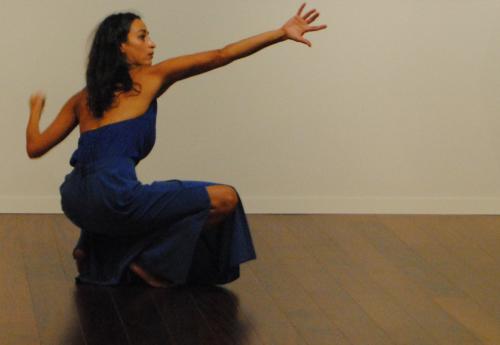 At the heart of our physiology, how do we meet sensory perceptions, their subtleties and modalities?
How do we also meet the animal's energy, its expressive yet silent presence?
How does the non-tangible shape and form itself into motion?

Alongside, she completed her education in Body-Mind Centering(R) as a certified practitioner of Fasciapulsology (IFCC-Christian Carini) and is studying with Dr Catherine Shainberg (School of Images, Saphire™).
Florence also accompanies, teaches and leads collective practice & labs in diverse organizations and institutions throughout Europe and takes part in various artistic collaborations.
---
Schedule:
Arrival between 2:30pm and 3:30pm on Friday
Friday 16/09 :
session 4pm > 6pm
dinner 7:30pm
Saturday 17/09 :
breakfast 9am
session 10am > 1pm
lunch 1:30pm
possibility to book an individual session with Florence between 2pm and 4pm (45€/60€ per individual session)
session 4pm > 6pm
dinner 7:30pm
Sunday 18/09 :
breakfast 9am
session 10am > 1pm
lunch 1:30pm
session 3pm > 5pm
closing circle & departure
---
Contribution:
Workshop:

90€ solidary / 120€ balanced / 150€ supportive
Lodging & meals:

120€ full pension (6 meals + snacks, 2 nights sleeping in a double room in the house – 50€ extra for a single room)
80€ full pension in our facilities (6 meals + snacks, 2 nights sleeping in a single tent or in the common space – 4 beds max)

62€ full pension in your own tent/van (6 meals + snacks, 2 nights sleeping in your tent or van with access to common showers and toilet)
20€ only lunches
All conditions give access to the 33 acres land of A Mandorla, the water pound and the swimming pool.
The meals are principally vegan and composed of bio and local products.
Transport from/to station (Odemira / Santa-Clara Saboia) :

20€
---
Regiatration: send a mail to chardon.lou@gmail.com or via Telegram/Whatsapp +351 910518101
Note that the group is limited to 10 participants.