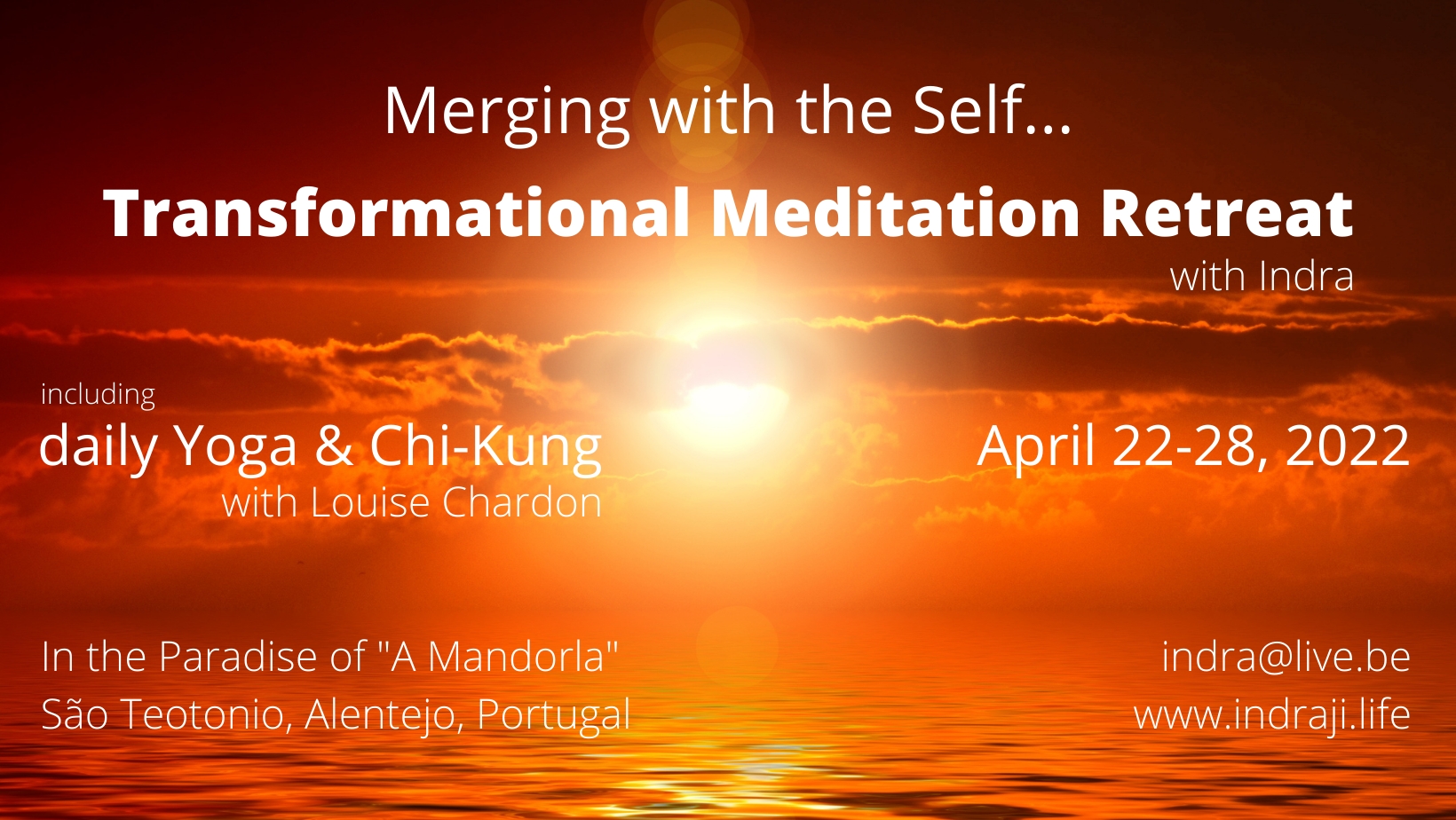 Transformational Meditation Retreat
Join us for this transformational 6-day retreat,
Realise Your True Nature,
and get clear about the future You want to see unfold.
All info also on indraji.life.
We are all living in a world undergoing an immense transformation. Personally as well as collectively we are constantly being pushed into choosing to live as victims of fear-based beliefs, or to consciously live our dreams, based on the new paradigm of Oneness Consciousness, bringing Unconditional Love, Inner Silence, Balance, and Freedom. We are the Creators in the Divine Quantum Field of All Possibilities, and that is exactly what we now are starting to understand and consciously relate to.
During this retreat we will lift the veil of illusion:
Reconnect with the One Divine Presence we fundamentally are,
and get clear insights about this field «outside» of us that we call reality.
If you are feeling the call, join us on this epic journey of Self-discovery. Grasp the opportunity to discover your Essence: you are NOT a separate being in a harsh world of solid matter, but pure and unchanging Blissful Conscious Existence.
During this retreat we will make a clear shift from the illusionary "separate identity construct", to the infinite I Am Presence that is our true Self. Therefore we will take all the necessary time for a deep dive into this infinite Space of Silence and Emptiness that we Are, and where we Know we already Are Complete, Powerful, strongly Rooted, Balanced, and Free.
We will also fully reconnect with the Devine Vibration that we Are, the Source and fundamental Nature of all of Creation.
There will be pointings towards the capital importance of being very conscious about the vibration we choose to hold. This vibration will, by magnetic resonance, reflect us the world our senses perceive… We are the sole Creators of our world! Therefore we will also have a focus on how to easily and effectively manage and master our vibration, entirely determined by our very own thoughts, emotions, beliefs, and actions.
We will reconnect with our True Self with
Silence, Meditation, Body/Energy Awareness, and Knowing in the Heart.
Every evening there will be a talk about a pointing towards our True Identity, and about the nature of this full-immersion holographic projection we call "reality". All topics will be handled in an easy and comprehensive way, and there will be time for questions and answers.
The result will be a radical change of paradigm that will profoundly and lastingly reconnect you with the Divine Presence that You Are. This merging will fill you with deep inner peace and joy, and will make you stand well-rooted, confident and balanced in life.
Time has come to be fully conscious of Who You really Are, and to take full responsibility for the world your senses perceive, your very own Divine creation. Who Are You, and what is the version of yourself and of the world that you want to see reflected? This year, 2022, is all about that… Dharma… Living Your Divine Life…
You Are the One Conscious I AM Presence:
Infinite, Eternal, Complete, Powerful, and radically Free!
Yours is the AUM Divine Vibration of Creation:
Love, Light, Peace, Harmony, Compassion and Joy!