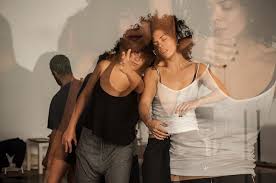 Dear beautiful souls,
We want to create a space/time for regular contact improvisation jam.
Our wish is to offer a jam with a guided introduction in which the quality of presence and touch/contact will be addressed
as well as some fundamental skills, to establish a playful and safe relational field for our movement explorations.
We'll experience and explore, witness and embody the play of movement-touch and from there slide organically into the jam.
We will also take a moment towards the end to integrate and conclude together.
We believe that this common tuning at the beginning and at the end are essential to create a sentient and intelligent individual and collective body.
---
Time structure: we propose to meet on the 2d and 4th Saturdays of each month from 3 to 6pm.
Welcome to everyone that wants to explore Contact-Improvisation.
---
All kind of movers, with or without experience.
The first 2 jams will be facilitated by Louise Chardon (www.amhttp://www.amandorla.pt/about-us)

---
May 8 and 22 from 3pm to 6pm
 • Wear comfortable clothes 
• bring your own drinking bottle
• Based on donation
---
Location: Monte do Carvalhosinho
https://goo.gl/maps/5ob6u5WY2ReM3dSKA
7630-033 Boavista dos Pinheiros, Odemira, Portugal
Decimal degrees: Width: 37.515798 // Length: 8.621390
GMS: Latitude: N 37°30'56.9″ // Longitude: W 8°37'17.0″
More info and registration:
info@amandorla.pt // chardon.lou@gmail.com // +351 910 518 910

☆♡☆ may we be motional ☆♡☆